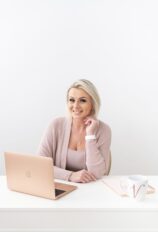 Dubbed by her happy clients as the baby sleep guru, Violet Giannone has helped thousands of new parents get a restful night's sleep.
An expert in her field, Violet recognizes that many parents have already tried it all: books, videos, social media posts, well-meaning friends and family, and even other sleep consultant experts.
Then "they come to me," Violet says. "Together we work on a plan that isn't just pat advice. It works for the family, their lifestyle, their personalities and the habits their baby has already established."
This individualized plan means "personalized attention that translates to a nearly 100% success rate," Violet adds. 
About Violet
As a Connecticut baby sleep consultant, registered nurse and published author, Violet Giannone founded the highly successful Sleep, Baby, Sleep®. Her practice is based in central Connecticut, but due to her availability via text, email and Zoom, she is nationally-acclaimed, helping clients throughout the U.S. and globally.
Violet is a professional member of The National Sleep Foundation, Regional Representative for the International Association of Child Sleep Consultants, and member of the International Institute for Complementary Therapists.  Violet has been quoted and published in numerous publications and has been hired by families all over the word for her expertise.
Her no "one size fits all" approach to a helping a baby sleep begins with a compassionate and comprehensive assessment of each family's unique situation. 
A baby's age, temperament, sleep pattern or lack thereof, and household environment are just some of the information she collects to formulate a gentle no tears solution for  weary families.
Violet boasts a nearly 100 percent success rate in her 10 years as a professional sleep consultant. She also is a guru at remedying such common sleep woes among both newborns and toddlers as nap troubles, frequent night wakings, bedtime struggles, and early morning wakings. 
To learn more about Violet's various methodologies, about Violet herself and her journey to becoming a global expert on pediatric sleep problems,  please TAKE A LOOK AT HER BIO!