This article contains affiliate links, but don't worry I only recommend products that I absolutely love!

Halo SleepSack
The SleepSack is great and it's a necessity when a baby is transitioning from being in the womb to the outside world. It's no secret that babies love and need to be swaddled. Not only that, babies tend to wake up due to the Startle Reflex (Read more on that here) Start with the SwaddleSack and transition into the other wearable blankets as your baby grows. The velcro is great on the swaddle because you won't need to worry about fixing the baby in the middle of the night when she unwraps herself as with regular receiving blankets. My favorite is the micro fleece, it's super cozy, but they also come in cotton. Not only are these convenient but most importantly they reduce the risk of SIDS. Remember the crib should always be bare, so these make great blankets.


                   As Baby Grows, Grow with HALO

When your baby grows out of the swaddle, Halo makes sleepsacks that grow with your baby. The swaddle can only be used for a short time (until your baby starts rolling). This wearable blanket is the next best thing. Your babies arms will not be swaddled, but by that point it won't be safe to do so anyway. The legs will still be in a sack, which is great because it makes the transition easy. They come in a variety of colors, like this adorble Winnie the Pooh Wearable Blanket.
The Micro-Fleece Is one of my favorites!

This is also another type of sleep sack. But what's great about this is that it has sleeves which keep your baby warm and cozy. It's a very soft and thin micro-fleece material. My baby actually snuggles up against her own sleeve, when she goes to bed. This is a really great sleep sack for young babies transitioning out of the swaddle. The sack part is not as wide as the Halo, so it makes your baby still feel sort of swaddled at the feet. It's snug at the body, so it's awesome for babies who are really dependent on swaddling. I say it's great for young babies because it only comes in one size 0-9months, and 9 months is pushing it. I would say more like 6 months, unless your baby is really small or short. When your baby outgrows it, you can then switch to a Halo, which is just a bigger/wider and sleeveless version of this sleep sack.
Arms Reach Co-sleeper 
The Arms Reach co sleeper is like no other bassinet. It actually attaches to your bed and allows clear vision of your baby. Great for middle of the night breastfeeding. Your baby can sense your presence and sleep soundly. It's like sleeping with your baby but safer. It's a great option especially for newborns who tend to have a hard time falling asleep without you. The best price I have found is on
Amazon
. The free shipping makes it even better.
Babies love white noise. It helps them settle, distracts them from crying, and helps them sleep better and longer. The Dohm white noise machine is the absolute best white noise machine on the market in my opinion. It's an all natural white noise that replicates the Shhhh sound that babies love. I have searched high and low for the perfect machine and this is it! It is amazing. You and your baby will love it! 
 You can get it here
.
Skip Hop Bumper Free Bedding. 
I'm a huge advocate of the SIDS campaign and crib safety. But I also want my baby's nursery to look like a nursery. I did some research and found a company that makes cute and stylish bumper free bedding. 
Take a look here
This is another one of my sleepy time must-haves. Both of my babies used the texture of this thin velour sheet, to soothe themselves to sleep. I absolutely love these sheets! They were crucial part of helping my babies learn to self soothe, and fall asleep on their own. It's hard to find something to give your baby to sleep with, especially when everyone scares you about SIDS. With this sheet alone, we didn't need any blankets, or stuffed animals. My babies just rubbed their face and hands across the smooth texture of this sheet to fall asleep. It's pretty genius, if you think about it. The American Baby Company, makes them in so many fun colors too!  They even make velour sheets for the playpen HERE. They are a little thicker but that's probably because the playpen mattress is very thin to begin with. And if you own a co-sleeper, you'll be happy to know that they make plush sheets for that too. Check it out Co-Sleeper Bassinet Plush Sheets
This is a no brainer. You absolutely need blackout blinds in your baby's nursery. There will be times when you will really regret not having these. Like when there's a full moon, during daylight savings time, or when your neighbor buys a new garage light. Blackout blinds also filter out light during the day, which is perfect for naps. The Blackout EZ blinds are my absolute favorite blackout window cover. They block out 100% of light, no sneaking in of light on the sides like other curtains, blinds, or panels. You don't need hardware to install them, and can still use them with your cute nursery drapery. Not to mention they work much better, and are cheaper than the typical blackout blinds or panels. And they come in different colors too. They are amazing!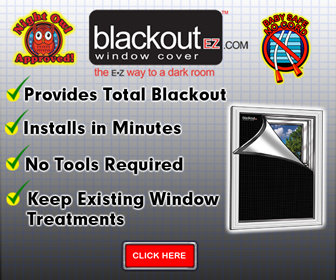 Getting a baby to sleep well requires many different components. Sometimes it's just too confusing to piece it all together. Consider a sleep package, which includes a step by step customized sleep plan specific for your baby, as well as support and guidance through the process. Start helping your baby sleep through the night!
View different options here—>